Best Moisturizing Products
Before we get started, two quick things: first, sorry for no post on Friday! Life got busy very quickly and I just had a lot going on this weekend. Second, I'm so overwhelmed to say that I now have international readers! To whomever is regularly reading from Russia,
я люблю тебя! I think that says "I love you" but I'm relying on Google Translate here. We can't all be cultured.
Now to the point of this post: moisturizing products! It's just started to get cool here in the past week or so and my skin is already suffering. I've had dry skin the whole life so I've been trying out different products for years, and I think I have a pretty good collection. Here's what's in my bag:
Body
There are a lot of great lotions out there, but you really can't go wrong with simple Aveeno Daily Moisturizing Lotion. I typically use it right after showers because it really helps to lock in that moisture, and I love that it doesn't have a strong smell like a lot of lotions do. This is going to sound weird but I love using it on my dry feet at night: I put on a pretty thick layer, put my socks on over it, and leave it while I sleep. It's like an overnight pedicure with zero effort. Call me crazy but it works!
Face
I'm blessed with a dry/sensitive skin combo and a lot of facial moisturizers cause redness in my skin, but that's not the case with Burt's Bees Sensitive Daily Moisturizing Cream. It melts in perfectly and lasts all day. I put this on every morning, and at night too if I have any problem spots I'm trying to take care of. It feels great and isn't heavy at all.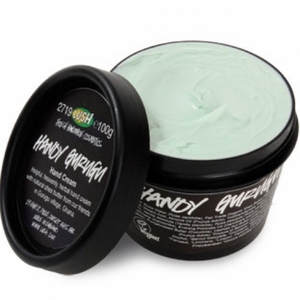 Hands
The Handy Gurugu is my all-time favorite Lush product, which is really saying something. This stuff smells amazing, soaks in great, and leaves my hands feeling as soft as can be. My boyfriend works on his car and his bike and all kinds of other stuff and has dry, cracked hands a lot, and this is even an easy fix for that.
Lips
This is a two-parter. First, I love the Burt's Bees Beeswax Lip Balm to use for an overnight treatment. It doesn't add color but, since I mostly just use it at night, I don't need it too. They do offer tinted balms in great colors, though, if that's what you need! Both are super moisturizing. Second, I use classic Rosebud Salve during the day because it adds gloss and the slightest pink color to your lips. It also works great as a spot treatment for dry hands in a pinch, although it is a little waxy.
Hair
Yes, even my hair gets dry. I live a charmed life. I've tried a million different hair products to combat that problem because I get a little flaky from time to time and obviously I don't want to deal with that. I think I've finally found the solution: Head and Shoulders Intense Hydration Shampoo. This was recommended to me and I'm obsessed with it. It smells good; doesn't weigh down my fine, limp hair; and even keeps my hair looking clean longer. It's like a miracle shampoo: I bought it to solve one problem and it solved all of them! I love it.
I recently got a little sample set of Kiehl's products but haven't tried them yet, so that may have to be another post soon. What are some of your favorite hydrating products and tips? Let me know in the comments!