2015 Fall Wardrobe Essentials
It's about that time of the year that almost everyone seems to dream of: fall! Who doesn't love a return to cozy jackets, warm socks, fashionable boots, gorgeous colors, hot coffee, perfect weather, and the approach of the holidays? Like Fitzgerald once wrote, "Life starts all over again when it gets crisp in the fall," and if you want to celebrate that new life, you need a solid fall wardrobe! Here's a quick roundup of my wardrobe essentials for this year to get you in the fall spirit (if the early release of the PSL didn't do that already).
via Nadyana Magazine
1. Leopard print! I'm usually not one to care for animal prints but there's something about the warm neutrals here that makes it really perfect for fall. I love pairing leopard with black (leopard top with black jeans, leopard dress with black scarf, etc) and then a bright accent color for a smaller detail like a purse or jewelry in turquoise, pink, or...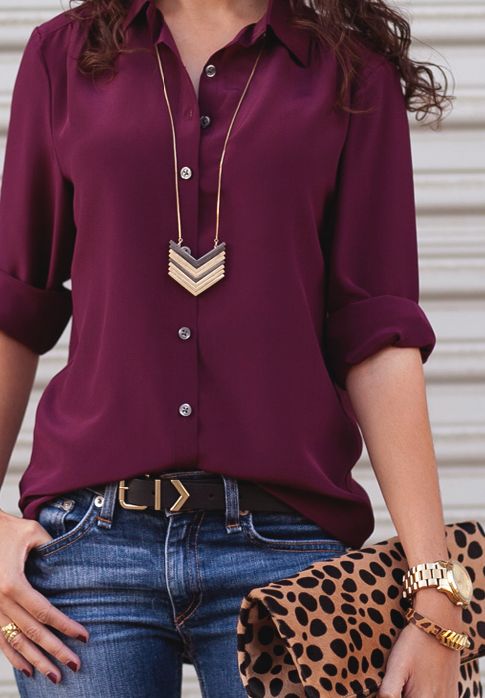 via Styles Weekly
2. Marsala. This has been the undisputed color of 2015 but fall is when it really has its moment. I just picked up a new Michael Kors bag in this color (they call it "Merlot") and I'm obsessed. It's such a flattering color on so many different skin tones and it goes with denim, black, camel, tan, even winter white! Bonus points if you pair it with leopard, as seen above!
via Forever21
3. Ankle booties. Wedges, heels, whatever, these are a necessity for a fall wardrobe, whether you use them to dress up or dress down. I love how versatile these are and how many different styles you can find them in. I personally love the suede look but you can find them in pretty much any material; suede may not work as well if you're in a rainy region so you could go for leather, etc. The ones pictured above are actually the ones I have, and I got them for like $30 at Forever 21 - total steal and they'll go with everything!
via Pinterest
via Southern Charm
4. A vest. This may be the srat in me but I'm obsessed with how cute, casual, and classy these are. J Crew has the classic example of these (pic 1) and, even though they debuted a few years ago, they're still perfect for anyone's fall wardrobe. I love these because they're light but warm and look great over a dress or a T-shirt. I also really love the fur vest trend that's happening right now (pic 2)! I've seen some really great examples in both neutrals and statement colors like pink and green. You really can't go wrong.
via Madewell
5.A huge tote bag. I keep a TON of stuff in my purse in the fall and winter - look for a post about that coming soon! - so it's great having a big bag. I love being able to take my cardigan off when I go inside somewhere and be able to squirrel it away in my tote rather than have to wear it around my waist like a third-grader. I rely on my brown Tory Burch York bag (which doubles as my work tote) but I seriously love the Madewell bags (above) which are super versatile and a great size.
via Starbucks
6. A cute travel mug. This isn't really a wardrobe piece but as much as I carry coffee around, it is for me! Starbucks always has cute mugs (I seriously LOVE the new porcelain one above) but I tend to gravitate toward Kate Spade, as I do in pretty much all things. Hers are so sassy and cute and usually go great for every occasion! I don't know what it is, but somehow carrying my coffee around in a cute mug really makes me feel like I have life together.
What are your fall wardrobe essentials? Leave a comment below!